I'm having a photographic memory of white pillows and a comfy bed wherever I heard the word "hotel". Besides, the only thing that I consider for hotel accommodation is the bed to sleep. Other than that, I also consider the location of the hotel because it is easy for me to go to any location that can walk nearly. I've been to several hotels in Cebu, but there's another hotel that gave me convenience and access to nearest destination in Cebu City particularly in Fuente Osmeña Boulevard.
Pillows Hotel is a 3-star hotel located in Gov. M. Roa St, Cebu City, Cebu, near at Fuente Circle Rotonda, which can give you more access to any nearest establishments and local attractions in Cebu. Pillows Hotel has 44 rooms equipped with Free WiFi connection, fully air-conditioned, cable TV, bathroom and kinds of equipment that can be used. In my room, there is a balcony where I can see a slight aerial view of Cebu City.
Rooms
Room rates are as follows: Updated as of September 2019
Standard Room (Single) – Php 1,589.00
Standard Room (Double) – Php 2,039.40
Superior Room – Php 2,719.00
Deluxe Room – Php 3,399.00
Premiere Suite Room – Php 3,852.20
Family Suite Room – Php 6,000.00
Rates are inclusive of Government Taxes
Rates are subject to change without prior notice
Children 11 years old and below are free of charge when sharing room with adult(s). No extra bed and breakfast required.
For extra guests, each person will be charged Php 450.00 per night inclusive of breakfast
RATE Inclusions
Daily breakfast
Daily complimentary bottle of water
Special Turndown service and daily make-up room service
Complimentary wireless Internet access
Satellite cable TV, in-room safe
Coffee/tea making facility, and mini-bar (mini-bar consumption is on personal account) for Premier Suite Room Accommodations.
What To Eat?
Pillows Hotel is near many food destinations in Cebu City. You can visit some of the famous fast-food chains and restaurants at Fuente Osmeña Boulevard and Mango Avenue. You should also visit the Larsian in Fuente for some Cebuano street food escapade. If you want something unique and cheap, you can visit the Pungko-pungko sa Fuente located at Don Julio Llorente Street in Cebu City, just a 2-minute walk away from Pillows Hotel.
If you want a less-hassle food escapade, you also visit their cafe on the ground floor. They served all-day breakfast meals, rice meals, sandwiches, pasta, and snacks. Aside from food, they also served drinks, coolers, hot beverages, and blended coffee beverages. See the image below for the complete menu.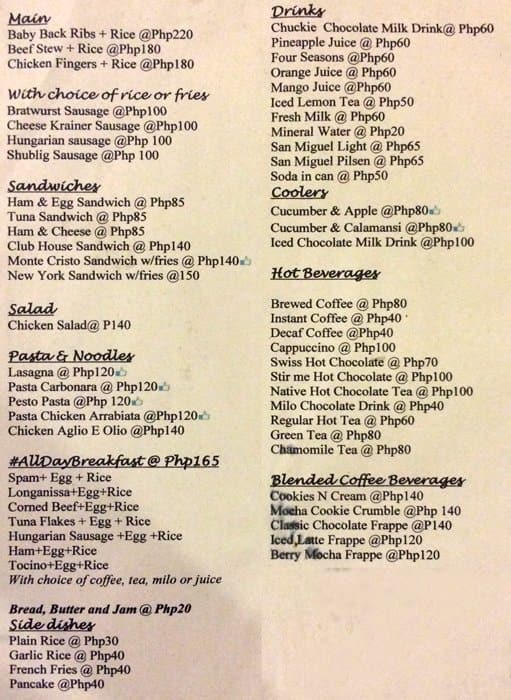 If you want to visit the downtown part of Cebu City, you can take a public utility vehicle going to Colon across Gov. M. Roa Street. Look for a jeepney with a sign "COLON" or just take the 14D or 17B. When you reached the downtown area, you can tour around there and visit some of the stunning attractions for foreign visitors. Other options to visit downtown or any location in Cebu City is to take a taxi cab or book a ride via Grab or Angkas.
5 Reasons why you should stay at Pillows Hotel
1.) Give you a comfort
We saw a lot of different fancy offers from various hotels in Cebu, but the deals are not so guaranteed in our need as guests. At Pillows Hotel, they can give you a comfort like a home to stay. The hotel staff is so accommodating and they give you reliable information about your inquiries.
2.) Give you an access
If you're bored, you can go around in Cebu and explore new places and food. The transportation is so easy because Cebu has different kinds of transportation to choose from. Besides, you can walk around to see tourist spots and shopping malls when you're staying at Pillows Hotel.
3.) Give you the ideal home.
Pillows Hotel is not just a hotel, but it is your home in the city. They offer a quality service that suits your needs to make your staycation much better.
4.) Get more access to local experience
The best experience to stay in a hotel is the experience of exploring local and authentic places and food. Pillows Hotel is one of the best hotels near Cebu's local attractions such as street food, tourist spots, and many more.
5.) Guarantee for Quality Service
I highly recommend Pillows Hotel as the best hotel to stay in Cebu City because it can provide you a quality service that suits your lifestyle at a middle-range price. The location is great to access everything in Cebu. I wish I can come back for another staycation in Pillows Hotel. I really missed the comfy bed with fluffy pillows.
For your booking inquiries, you may search Pillows Hotel in Agoda or Bookings.com, or just visit Pillows Hotel on Facebook and Instagram.