It's always confusing when I hear about Macarons and Macaroons. Growing up with different kinds of pastries, it is hard for me to identify which is the real macaron or macaroon. Even kids are still confused about it. Some of my friends are used to argue with their opinions about macaron and macaroons and ended with a big confusion. So I made this blog introduction to make you understand the difference between Macarons and Macaroons. Now I can tell you which is the correct term for both cookies.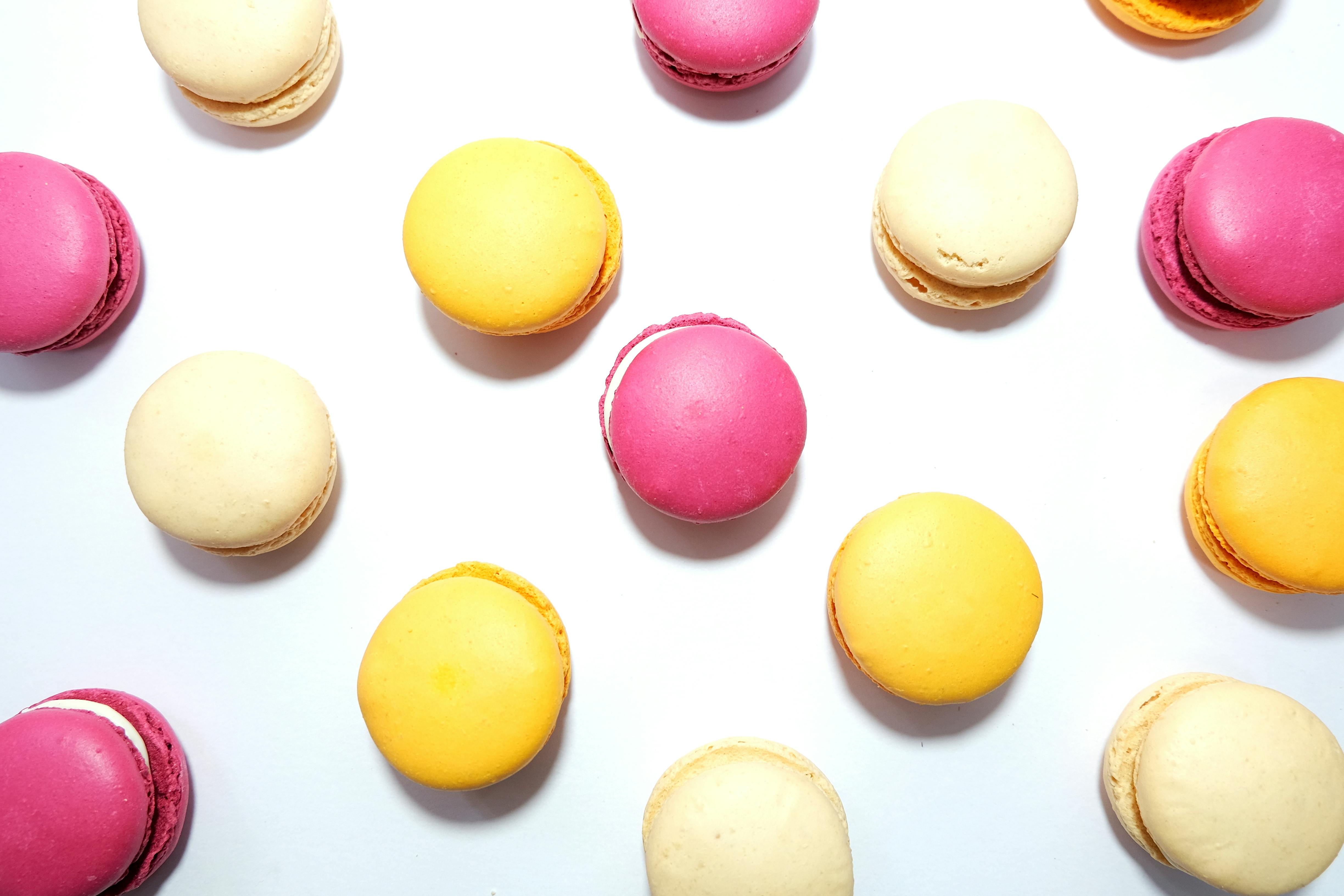 Macaron or French Macaroon is a type of sweet meringue-based confectionery made of egg white, icing sugar, granulated sugar, almond powder, and food coloring. The coconut macaroon is often confused as macaron to others. Few bakers have adopted the French spelling of macaron for the meringue-based item to tell apart. A typical macaron is presented with a ganache, buttercream or jam filling sandwiched between two such cookies, similar to a cookie sandwich. Macarons are mildly moist and easily melts in your mouth. Macarons are available in a variety of flavors such as pistachio, raspberry, passionfruit, strawberry, lemon, and chocolate.
The Macaron History
Macarons were originally produced by the Venetian monasteries since the 8th century A.D. during the Renaissance, and Queen Catherine de' Medici's Italian chefs made them when she brought them with her to France in 1533.  In another fact, Macaron was also created in 1791 in a convent near Cormery. Macarons became popular when two Carmelite nuns baked and sold the macaron cookies in order to pay for their housing. These nuns became known as the "Macaron Sisters". During those stages, macarons served without flavors or fillings. During the 1930s, macarons began to be served two-by-two with the addition of jams, liqueurs, and spices. The macaron as it is known today, composed of two meringue-based cookie discs filled with a layer of buttercream, jam, or ganache filling. The Macaron was originally called the "Gerbet" or the "Paris macaron" by a pâtisserie baker, Claude Gerbet. French macaron bakeries became trendy in North America in the 2010s.
Photo Credit: https://theculturetrip.com/europe/france/paris/articles/the-history-of-the-delicious-macaron/
Therefore, I conclude that macarons and macaroons are entirely different cookies. First off, a macaroon is a coconut-based cookie, whereas a macaron is a meringue-based soft cookie with different colors and flavors.
I guess you learn a lot from my introduction, right? If you want to find a specific store that sells a variety of macarons in Cebu. Well, there's a new store for your macaron cravings.
Good Vibes with Macaron 5
Macaron 5 is a place that you can experience delectable macaron cookies with classic variations and satisfying taste. Macaron 5 is located at the 2nd level of Ayala Center Cebu. Aside from macarons, they also serve hot coffee as a perfect pair for your macarons. It would be the newest craze for kids and kids at heart in town.  Macaron 5 is simply the best tasting macaron in the city and I would love to taste it again.
During the event, we did a lifestyle shoots and of course with macaron 5 products to highlight our experience there.
I was invited for their grand opening last July 20, 2019, and it was great seeing my fellow blogger friends there. We enjoyed the activities and everyone was so excited for the unveiling ceremony of the beautiful kiosk store of Macaron 5. It was the best time to bond with my blogger friends and we discussed our Macaron 5 experiences.
So here are my thoughts and good points for Macaron 5:
Pros
1.) Macaron 5 serves freshly-baked macarons daily. They want to serve freshness and good quality macarons for everyone.
2,) They use a high-quality almond powder for their macarons to make it more tasteful.
3.) Their macarons are in two-colored cookie disk in different flavor variations: Mango-Choco, Strawberry, Passion Fruit, Dark Chocolate, Salted Caramel, Coco-Ube, Pistacho, Mixed Berries, and After & Mint.
4.) It is very affordable. You can buy a single macaron for only 30 to 35 pesos each or in a box of 5 for only 145 to 165 pesos (depends on flavors).
5.) Aside from Macarons, they also sell Mango Float Cakes, Mousse Tarts, Egg Tarts, Eclair, and Choux. They also serve Hot Coffee and Tea as perfect partners for your macaron experience.
Cons
1.) If you're a diabetic person, you can eat less because it is too sweet. Make sure to eat macarons in moderate consumption.
2.) Since it is too sweet, too much of sugar or any sweeten food will bombard your taste buds. Don't worry about it, few people can experience this weird kind of situation.
3.) It will give you a sugar rush which gives you a large amount of short-term energy as your body burns through the simple carbohydrates that sugar is made up of.
4.) You can eat it ahead or just put it in the refrigerator to make the freshness stay longer.
5.) You can't escape from being too addictive to maracons because it is so good!
Macaron is located at the 2nd floor of Ayala Center Cebu (beside Play Nation). To know more about Macaron 5, you may visit their official Facebook page at https://www.facebook.com/macaronfive/ and check some of their instagrammable macaron products at https://www.instagram.com/macaron_five/
Overall, I will give them a 4 out of 5 ratings for now. I'm still searching for other #TatakCebu goodies. Indeed it is the newest confectionery craze in town!
Information source: Wikipedia.org