I am looking for a something big and worthy meal here in Cebu City where I can full my starving tummies and satisfied my taste buds as well. I discovered this newly opened food destination along North Reclamation Area, Cebu City and it has something to do me marching over there to eat and enjoy. Introducing, Kampo Grill and Bar!
It sounds like a military base. 🙂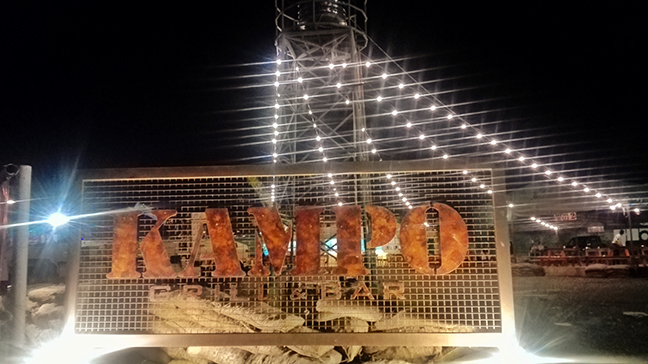 What is Kampo Grill and Bar?
It is literally called "Kampo" or Camp in English because their restaurant is inspired by a military camp which is a semi-permanent lodging area for combat armies and trainees. Another thing is their restaurant is offering satisfying and appetizing meals in big servings. We all know that combat militaries need to have a full meal to energize their bodies. A man who's in full stomach can easily go and active. Kampo Grill and Bar want you to fill your stomach because they care about your cravings.
Aside from that, you can enjoy their signature beverages that inspired by military events in the Philippines like "Marawi Freedom".
That is why Kampo Grill and Bar is the home of the brave and hungry.
What to eat?
There's a lot of meals to choose from their menu. I can't mention all the food and drinks, but I can give you the list of food that I tasted and highly recommended for your cravings. Well, it's my own taste review for Kampo Grill and Bar. It's much better if you try it personally.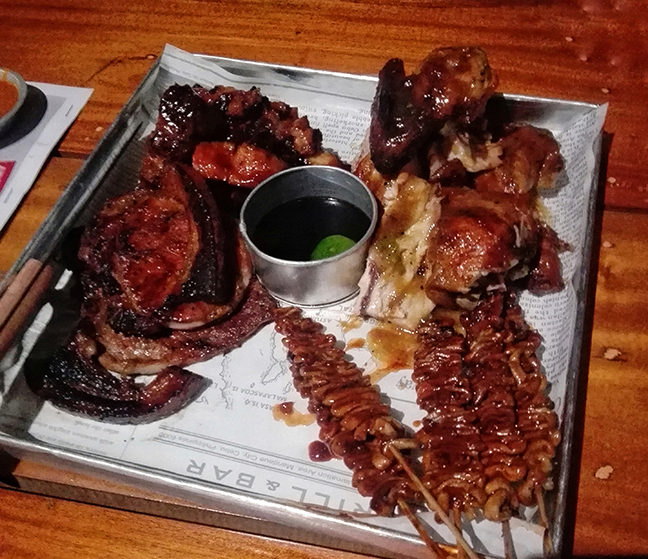 BBQ Platter
We can see barbeque dishes served in a food market and restaurants, but the BBQ Platter in Kampo Grill and Bar was so good. Yes, this appetizer consists of grilled pork belly, grilled isaw (Chicken Intestine), and roasted chicken all on one platter that surely your friends can enjoy it.
Dirty Rice
Yes, Rice! We can't live without rice though. Dirty Rice is a kind of savory type of rice that served at Kampo Grilled and Bar. Why did they call it Dirty Rice? The special flavorings and spices can give an extraordinary taste and it made me satisfied to eat more.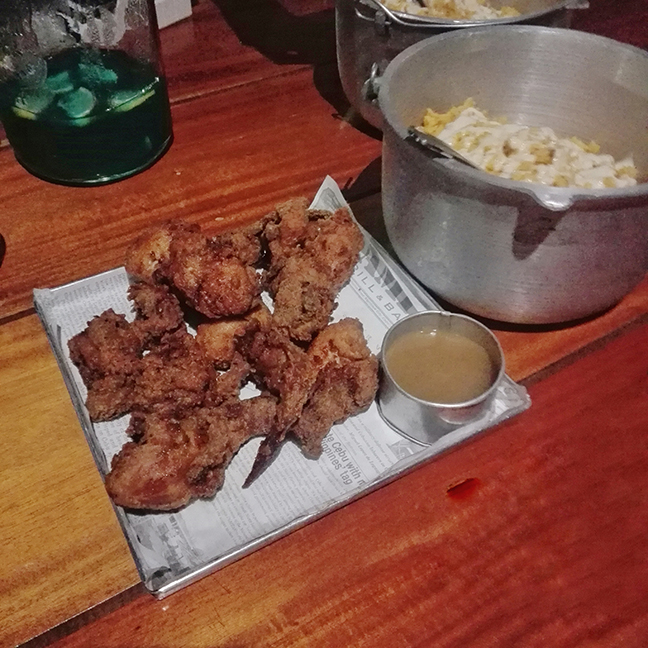 Buttermilk Fried Chicken
The most creamy fried chicken that I ever tasted. Yes! This is Buttermilk Fried Chicken. An old-fashioned buttermilk marinated chicken seasoned with different flavors and combined with saucy gravy will surely make you shout "One More, Please!".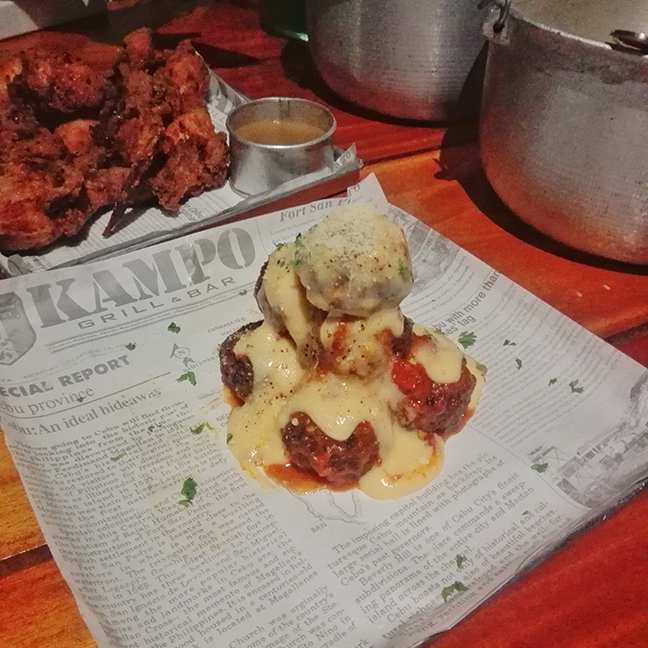 Meatball Mountain
These creamy meatballs smothered in marinara and cheese sauce that surely can give an exploding taste in your mouth just like a volcano eruption.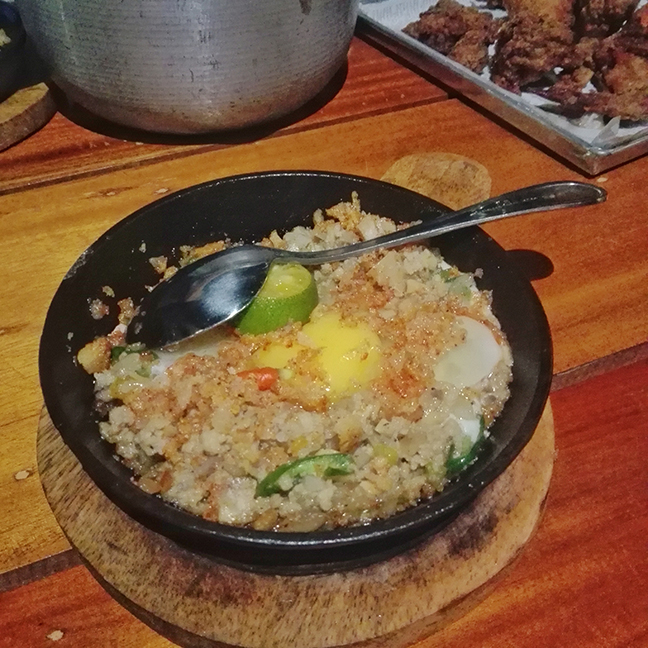 Crocodile Sisig
Trivia: This is my first ever to try a crocodile meat dish in my whole life. Yes, seriously!
An exotic crocodile meat with different spices comes to a sisig style and topped with egg and spicy chicharon. The taste was really satisfying. The taste of crocodile meat is similar to a chicken meat, but not really exactly as the same level of taste. Crocodile meat has a powerful taste that surely you can figure out that it doesn't totally taste like a chicken. If you are curious about the taste, well, it's your time to try it at Kampo Grill and Bar.
Where is Kampo Grill and Bar located?
It is located in North Reclamation Area, particularly in Ouano Avenue, Cebu City, Cebu. You can easily determine the exact location of Kampo Grill and Bar because of their amazing ambiance. Just look for a water tank tower with bulb lights and huge military trucks. It's just like a military base camp on a highway.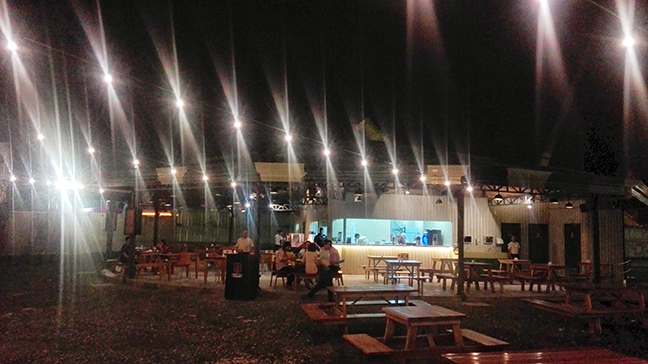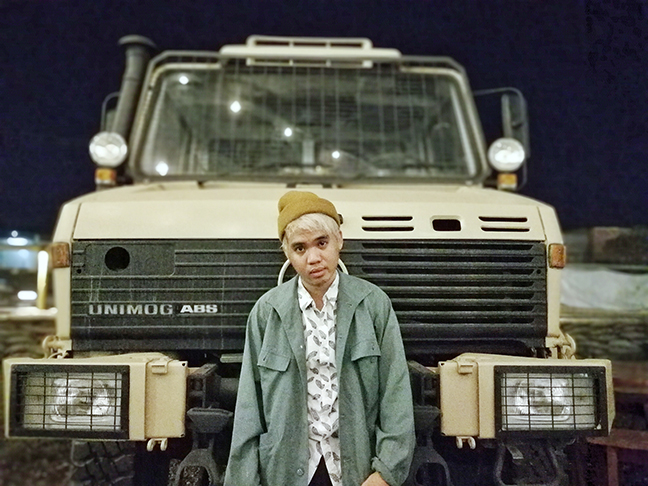 Enjoy their dishes and beverages from Mondays to Saturdays, opens at 5:00 PM to 2:00 AM. For more inquiries, you can contact them at (032) 516-0718 or visit their official social media accounts on Facebook and Instagram.