When I heard the word "Buffet" is something that I can imagine a dining room with a full of delicious foods and indulged desserts that can full my tummy. When you preferred to have different flavors per day for a buffet lunch or dinner, you can have it at HCafe's of Harold's Hotel in Gorordo Avenue, Cebu City.
I was at HCafe's Themed Dinner last week and it was so amazing to be invited to a buffet dinner were some of my blogger friends was there to experience the HCafe's Themed Dinner and their delightful dishes and treats.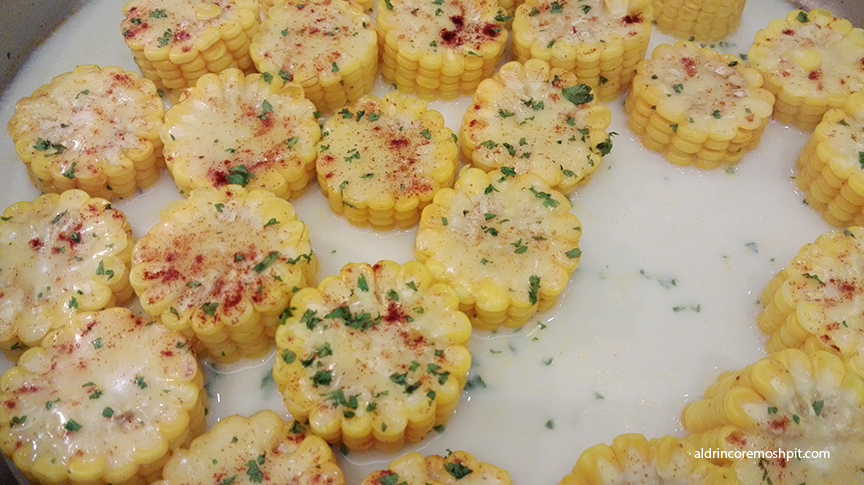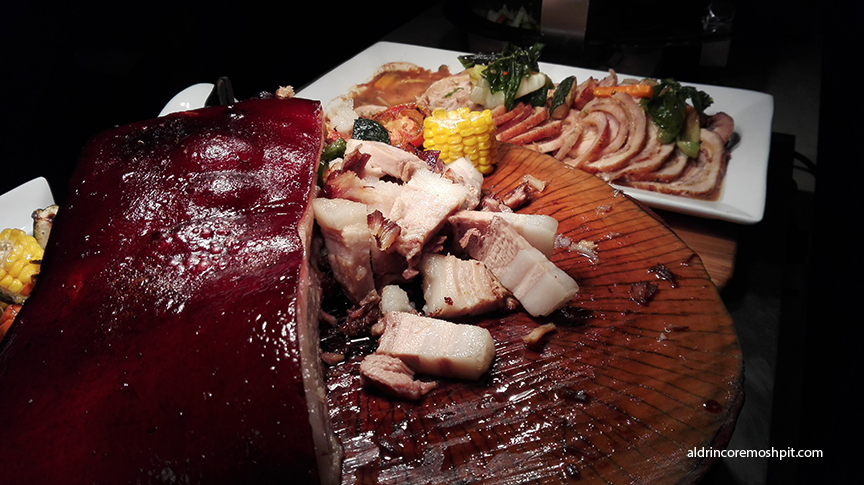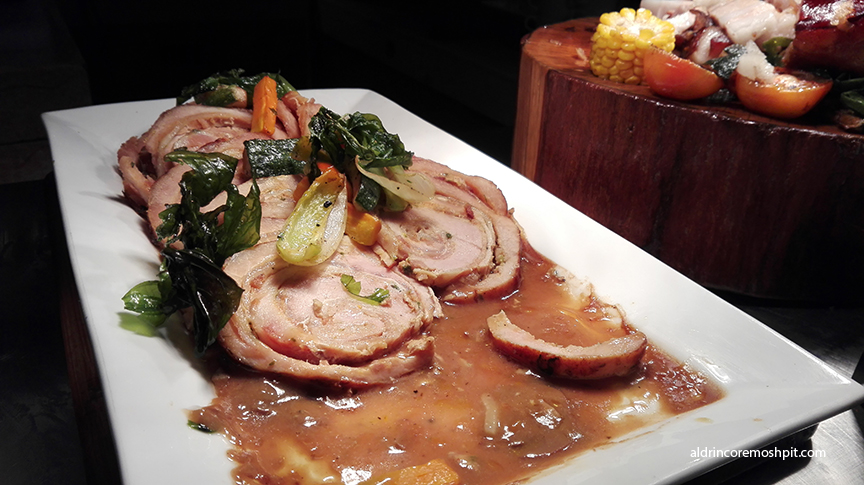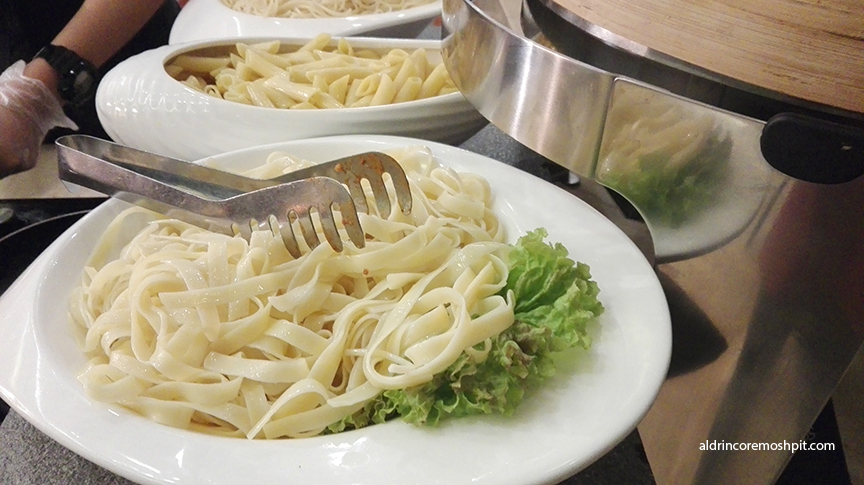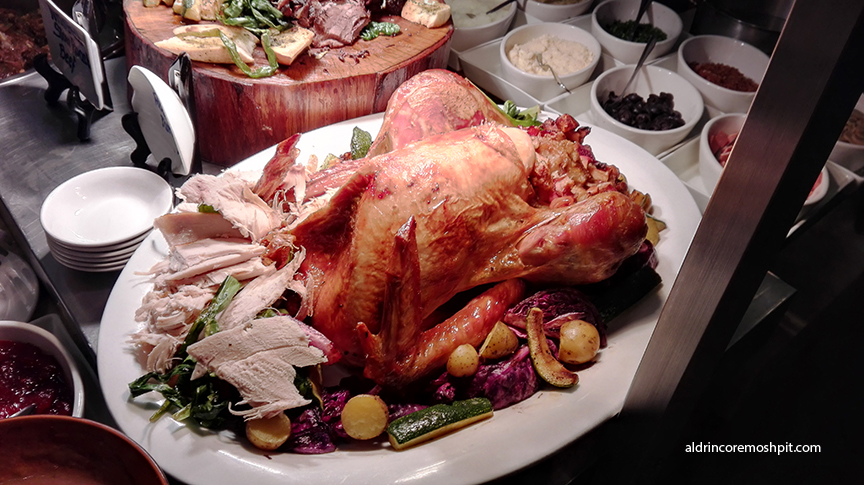 You can enjoy the different themes in a week with their featured dishes from Mondays to Saturdays and the best cuisine on Sundays.
Let's go round-tripping with different themes of HCafe.
SPICED UP ASIA  on Mondays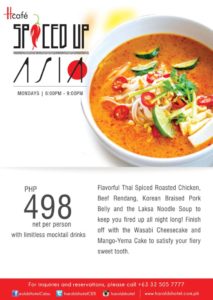 You don't need to go to Korean or Thai Restaurant to experience Asian themed flavors. At HCafe, you can have it all you want. Starting at Php 498 net person with limitless mocktail drinks, you can experience the flavors of Thailand and Korean in one place. Try their flavorful Thai Spiced Roasted Chicken, Beef Rendang, Korean Braised Pork Belly and Laksa Soup. You can try also the Wasabi Cheesecake and Mango-Yema Cake for a fiery and delightful Asian sweets.
Tasty Classics on Tuesdays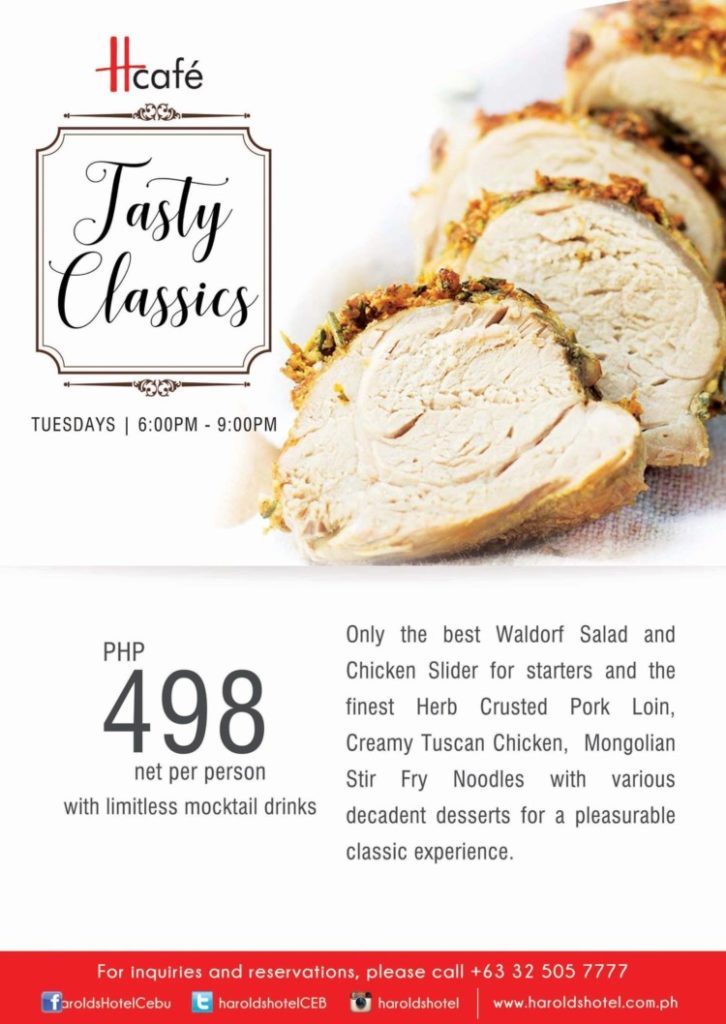 Dine like a Queen and King and experience the classic dishes of HCafe's on their Tasty Classics Theme every Tuesday. You can try and experience the best Waldorf Salad and Chicken Slider for starters. You can experience the Herb Crusted Pork Loin, Creamy Tuscan Chicken, and the Mongolian Stir Fry Noodles. Aside from cuisines, they have a variety of desserts for a pleasurable dining experience with a touch of class.
GREAT WOKS OF CHINA on Wednesdays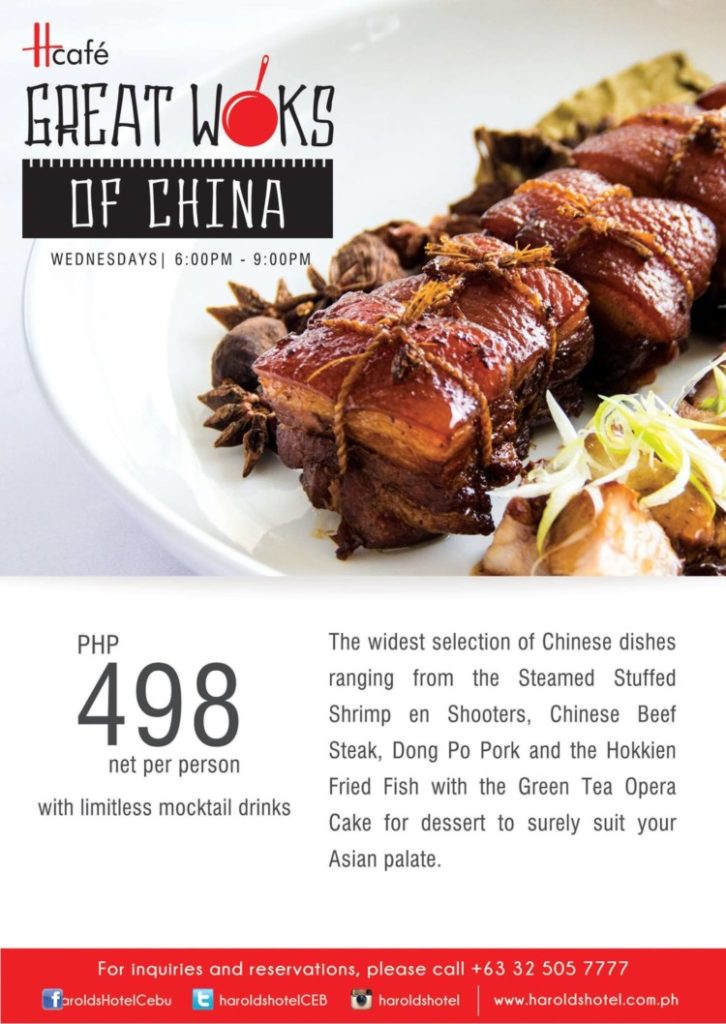 Let's have a tour of the wild flavors of Mainland China starting with the Steamed Stuffed Shrimp en Shooters, Chinese Beef Steak, Dong Po Pork, and the Hokkien Fired Fish. Experience the Green Tea Opera Cake for dessert to satisfy your palate into an Imperial-style dining experience.
THE MILLENIAL'S CHOICE on Thursday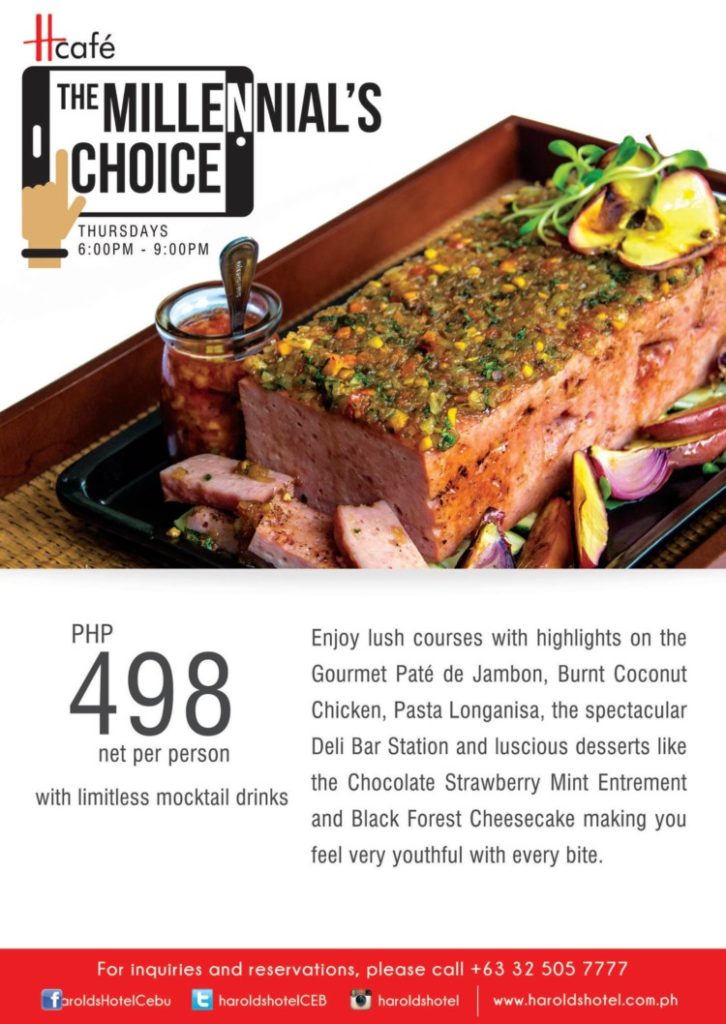 Feel young again every Thursday on HCafe's The Millenial Choice Theme and enjoy the lush courses with highlights on the Gourmet Pate de Jamon, Burnt Coconut Chicken, Pasta Longanisa, and the spectacular Deli Bar Station. You can pick more desserts such as Chocolate Strawberry Mint Entrement and the Black Forest Cheesecake. This is my favorite theme dinner at HCafe because I can use the hashtag #ThrowbackThursday which I can reminisce the days when I was younger.
THE ART OF ROASTING on Fridays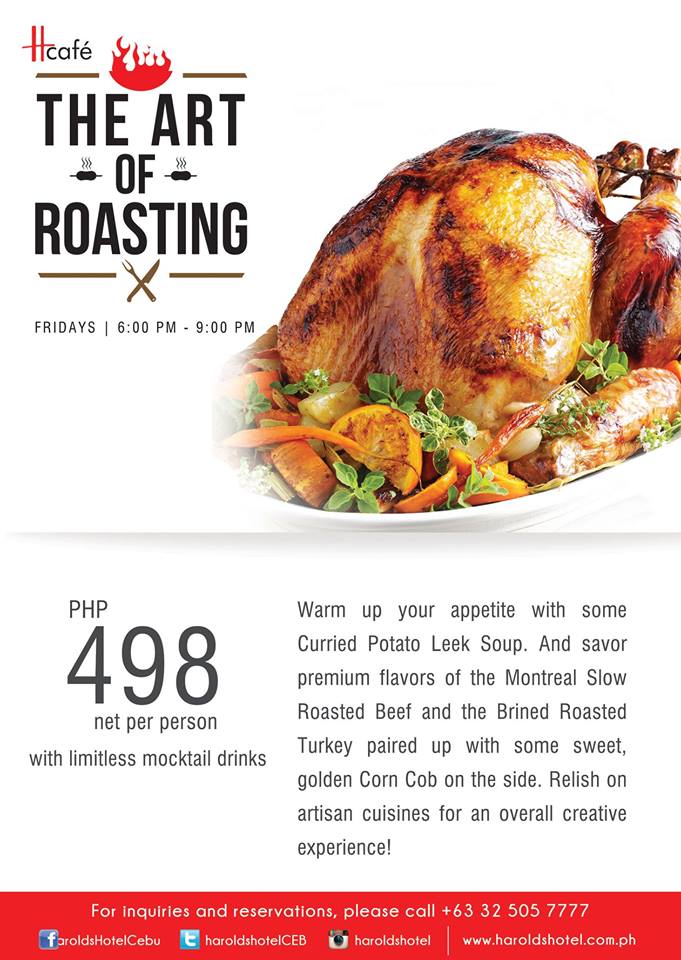 Fire up your Friday night with the Art of Roasting at HCafe and experience an appetizing dish with some Curried Potato Leek Soup, a savory Montreal Slow Roasted Beef, and the Brined Roasted Turkey paired up with sweet golden CornCob on the side. Seize the taste of creative experience like an artisan cuisines. Bon Appetit!
NOUVELLE PINOY FLAVORS on Saturdays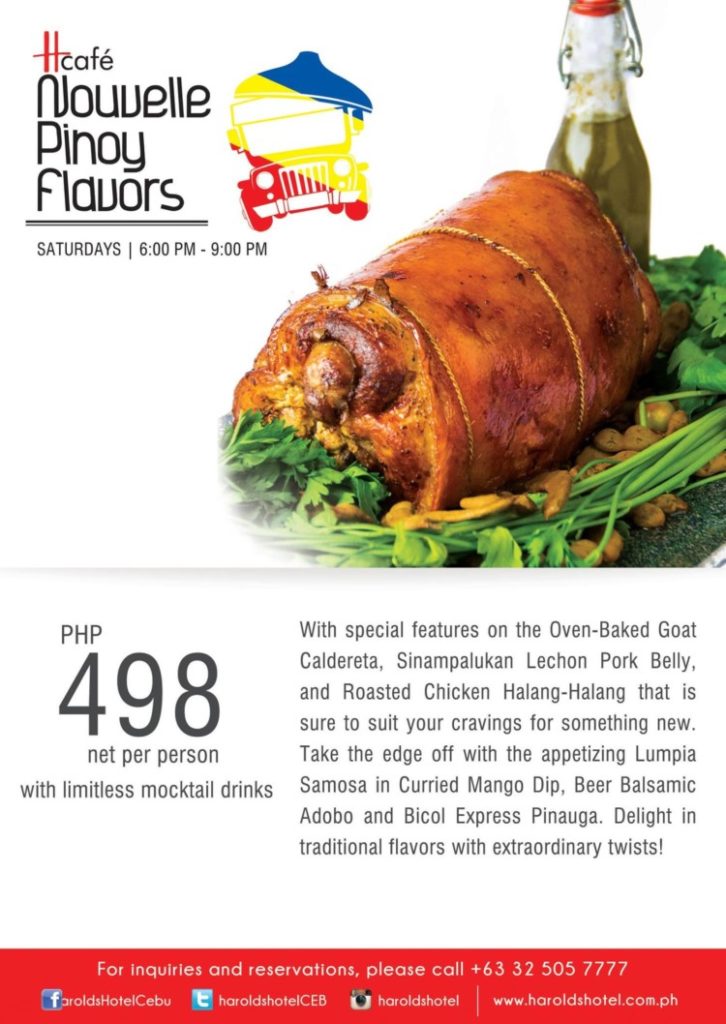 Experience the ultimate Pinoy dishes with special features on the Oven-Baked Goat Caldereta, Sinampalukan Lechon Pork Belly, and Roasted Chicken Halang-halang. You can taste like Filipino home and savor the traditional dishes like Lumpia Samosa in Curried Mango Dip, Beer Balsamic Adobo and Bicol Express Pinauga.
SUNDAY'S BEST On Sundays
You can drop by at HCafe and experience the Sunday's Best Buffet for only Php 385 net per person with the best selection of local and international cuisines and desserts. Your weekend is gonna be great and full of happy tummy. Go now and make your week like a food escapade at Harold's Hotel.