Rise and Shine, KPop Fans! Get Ready for the Biggest KPOP Event in Cebu City!
The biggest KPOP event in Cebu City is on its way, and you won't want to miss it! Experience a new era of entertainment with MB Crew, 1Million, AB6ix, Viviz, Younite, and Sandara Park at the "Awake: A New Beginning" Music and Arts Festival. Presented by MARK Entertainment and Events, this thrilling event is set to take place at the scenic City Di Mare Grounds on September 23, 2023. Get ready for a day filled with sensational performances and artistic experiences that will leave you in awe.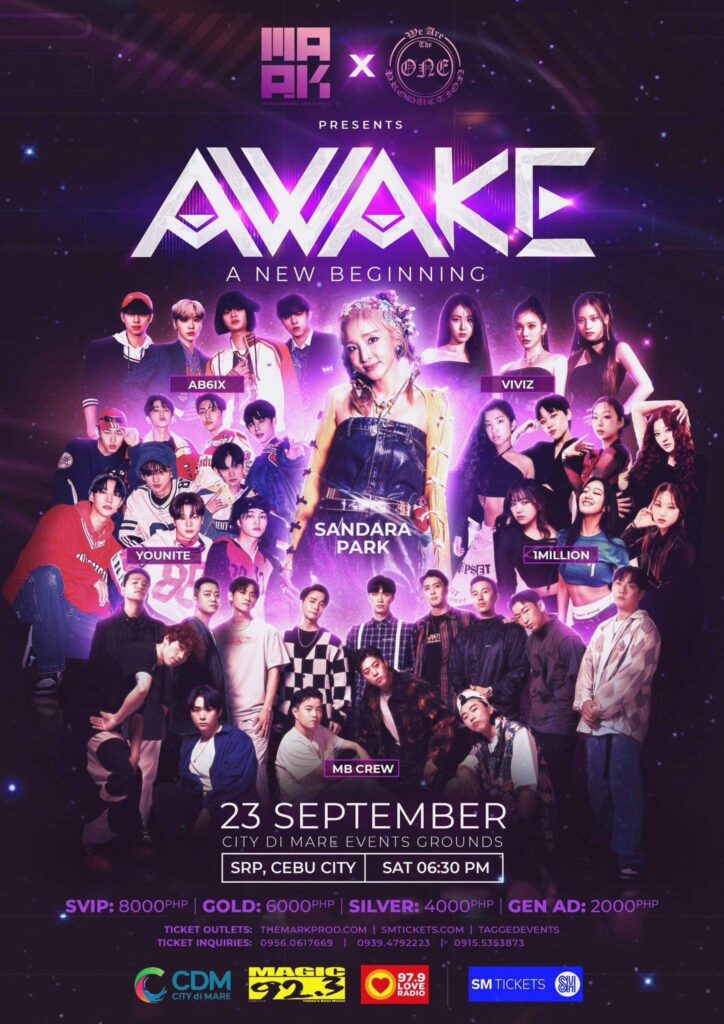 Exciting Lineup of Artists:
Prepare to be blown away by a lineup of K-pop talents at "Awake: A New Beginning." The festival proudly features Sandara Park, Viviz, AB6IX, Younite, 1MILLION, and MB Crew as the headliners. These k-pop artists are known for their sensational performances, and together, they'll create an unforgettable show that music enthusiasts won't want to miss.
A Fusion of Music and Art:
"Awake: A New Beginning" isn't just about music – it's an immersive celebration of creativity. Attendees can expect a blend of live k-pop music, captivating visual art, and interactive installations that will engage the senses and spark the imagination.
Experience the Magic at City Di Mare Grounds:
The picturesque setting of City Di Mare Grounds adds an extra layer of charm to the festival. Nestled by the sea, this venue offers stunning views that complement the excitement of the performances. Attendees can enjoy a comfortable and vibrant atmosphere that enhances their overall K-pop experience.
Ticket Information:
Tickets for "Awake: A New Beginning" are available in various categories to suit different preferences. Here are the details:
SVIP Ticket: Php 8000
Gold Ticket: Php 6000
Silver Ticket: Php 4000
General Admission (Gen Ad): Php 2000
Early Bird Promo (August 18-20):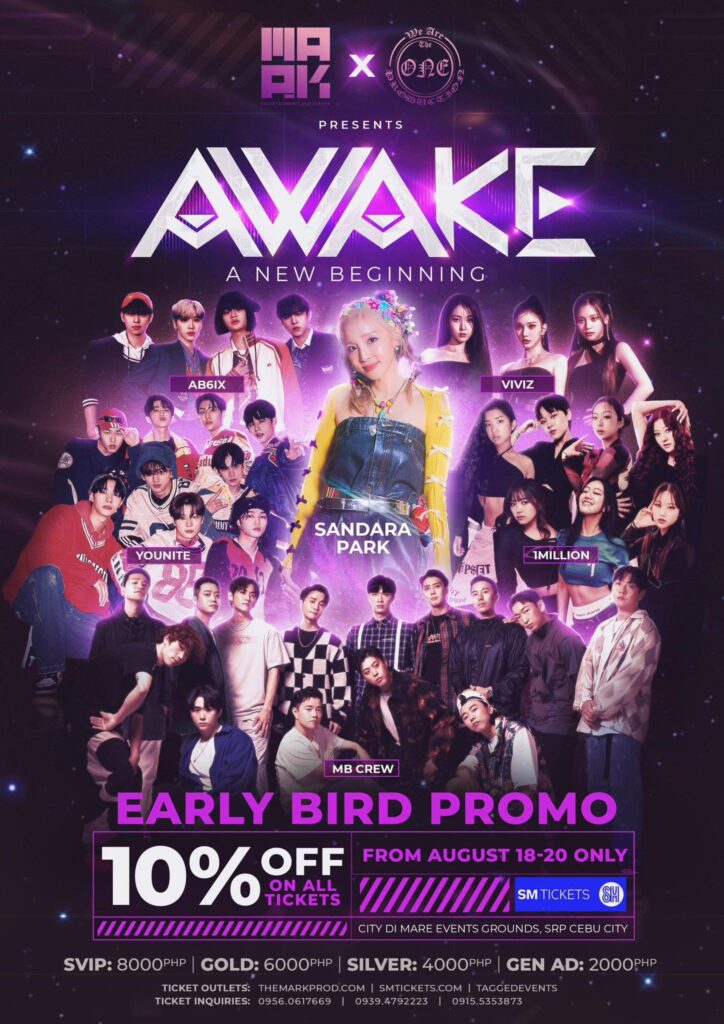 Enjoy a 10% discount on all tickets during the Early Bird Promo period from August 18 to 20. Don't miss this chance to grab your tickets at a discounted rate!
Tickets can be purchased through the official event website themarkprod.com, smtickets.com, and Target Events. For inquiries and assistance, please contact the following numbers:
09560617669 | 09394792223 | 09155353873
Make sure to secure your tickets early, especially for the limited SVIP, Gold, and Silver categories.
About MARK Entertainment and Events:
MARK Entertainment and Events is passionate about music and committed to excellence. The team consists of seasoned professionals who work tirelessly to produce high-quality, unforgettable concert experiences. For more information, visit themarkprod.com.