Bye-bye Cebu for Now!
Mindanao is a big island located in the southern part of the Philippines, which has a variety of culture and heritage that can offer to the world.  I am very excited and I can't believe that I could reach the promising land of Mindanao.
When I observed Mindanao
Most people think that Mindanao is not safe to travel because of certain points for that can conflict their personal safety. All I can say is Mindanao is a safe and peaceful place to travel. There's nothing to worry about and you can enjoy mostly the views of greenery mountains, wide farms, countless coconut trees, and native houses. Aside from that, I observed that their lakes, rivers and canal system are mostly clean and garbage-free. Nowadays, I can see some polluted rivers and canal system in urban places which can cause rapid flash floods on the road. Well, cleanliness starts with a discipline and a strong concern for the environment.
How to get there?
You can choose for any transportation going to Mindanao either an Airplane or a Shipping Line. Our team, Huawei Sugbo, decided to secure a shipping line ticket in early and we took Cokaliong Shipping Line going to Surigao City in the next few days. Make sure to secure a ticket so that you can set your desired date to travel. Going to Mindanao can take around 8 – 9 hours from Cebu Port Area.
Touch Down To Mindanao
We arrived around 4:30 AM in Surigao City Port and we took a jeepney going to Surigao Bus and Jeepney Terminal.  At Surigao City Bus and Jeepney Terminal, we took a van going to Butuan City. We spent around 2 hours of traveling from Surigao City to Butuan City and I took the opportunity to rest or nap.
Arrived at Almont Inland Resort
After the very long trip, we finally arrived at Almont Inland Resort around 7:00 AM.
Almont Inland Resort Butuan is a tropical resort in Butuan City.
The astonishing views of Almont Inland Resort in Butuan.
Hotel Rooms
We enjoy the classic touch and modern tropical stay at Almont Inland Resort in Butuan City. Almont Inland Resort offers the room best rates with the best inclusions.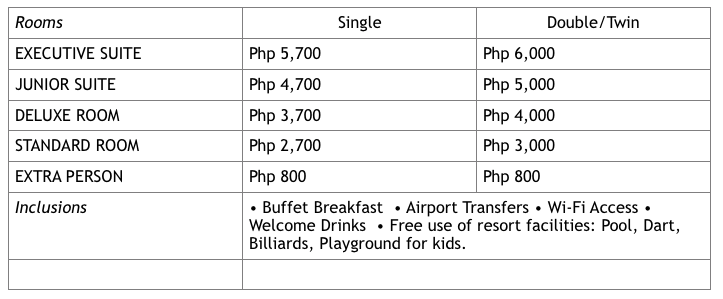 Resort Amenities
• Pool
A crystal clear water swimming pool for adults about 4ft to 6 ft and a kiddie pool about 2 ft. with tower twirl slide.
• Joaquin's Pizza Bar Gemelli
You can dine, play and chill at Joaquin's Pizza Bar in Almont Inland Resort. They have a variety of cuisine that surely satisfies your cravings and taste buds. I was surprised by a carbonara pizza and they called it "Piezza". Other cuisines are Kinilaw, Fried Rice, Burgers with Calamaris Rings, Squid Ink Pizza, and sort of Seafood dishes.
• The Man-made Lake
It was amazing to see this man-made lake in Almont Inland Resort. There are many tilapias living on this man-made lake.
• Delight Dinner at Manay Maling Restaurant
We enjoyed the delight dishes at Manay Maling Restaurant which they served healthy cuisine.
Mind The Now Butuan: A Mobile Photography and Blogging Workshop.
Mobile Photography and Blogging are the most powerful content creation for businesses, brands and personal projects. Technology is always evolving through the years. People can afford on any smartphone brands specifically in specifications like RAM capacity, camera megapixels, and body design. Along with the fast-growing industry of blogging and vlogging which everyone can fully access to create contents like blogs, vlogs, and photography.
Our team, Huawei Sugbo, decided to invade Butuan City for a Smartphone Photography and Blogging workshop. This is our first ever outside Cebu event that caters our knowledge and expertise to share with aspirant photographers and bloggers in Butuan City.
This workshop can help them understand and learn about the basic photography and blogging processes. They also learned about the importance of being responsible content creators and the ethics of street photography.
The first speaker is Jinri Layese of Bantayan, Cebu. He is into street photography and handled many projects like events particularly in wedding shoots. He discussed his expertise and tips on how to make a perfect photography.
The 2nd  is Marjorie of DakilangLaagan.com. She is a travel blogger and active trekker in several mountains in the Philippines. She's been blogging for many years and she inspired to do more because she wanted to inspire other people through her experiences and adventures.  She discussed her travel adventures with Huawei GR5 2017.
The 3rd speaker is Mimi Gonzales of chasingbleu.com. She is a Food Blogger and loves to capture a stunning shot of food varieties from main courses to desserts. She discussed food blogging and her personal tips on how to shoot a food through proper lighting and composition.
The 4th speaker is Rome Nicolas of bastabisaya.com. He is a Lifestyle Blogger and his unique Bisaya content blog was really inspiring and worth to read. Aside from his Bisaya content blog, he also blogging his fitness journey at almostfitninja.com which he wanted to inspire other people about the importance of fitness and healthy lifestyle. He discussed the tips on how to start a blog.
The 5th speaker is Wellbein Borja of cebutechguide.com. He is a Technology Blogger and also a finalist of BCBA 2017 for Best Technology Blog category. He is very active in doing a vlog sessions in his adventures and places that he featured. He discussed vlogging on the go using Huawei P10. Yes, most of his vlogs were done on his smartphone. That's why he is so fast uploading his new vlogs.
https://www.facebook.com/photo.php?fbid=2010738602286086&id=100000498982243&set=rpd.100000137025575&source=49
Herbert Kikoy of driftstories.com is the one who leads the Huawei Sugbo. He also organized many photowalks in Cebu for many years. That's why MindTheNow Butuan Smart Photography and Blogging workshop was a success. I would like to thank the following sponsors which also helped us to make this event happened; Huawei, Almont Inland Resort, Taga Butuan KA Kung (TBKK), Hotel Oasis, Tuna Republic, Globe Telecom, Island Tea Co., and Xtreme Gadgets.
https://www.facebook.com/herbertkikoy/posts/pcb.2011213818905231/?photo_id=2011213372238609&mds=%2Fphotos%2Fviewer%2F%3Fphotoset_token%3Dpcb.2011213818905231%26photo%3D2011213372238609%26profileid%3D100000137025575%26source%3D49%26refid%3D17%26_ft_%3Dtop_level_post_id.2011213818905231%253Atl_objid.2011213818905231%253Athrowback_story_fbid.1956167104397838%253Athid.100000137025575%253A306061129499414%253A75%253A0%253A1517471999%253A6218515684030119483%26__tn__%3DEH-R%26cached_data%3Dfalse%26ftid%3D&mdf=1
We are so glad that we reached around 100 + participants and we surprised for instant inquiries on that day. Hopefully, we can go back for another batch of aspiring photographers and bloggers of Butuan City. Always stay tuned to our official Facebook page at facebook.com/HuaweiSugbo.
Please stay tuned for the part 2 of this blog which I will tell you a story about my 2nd day in Mindanao.
Thank you so much for reading my first ever outside Cebu travel blog.